Monday, April 4, 2011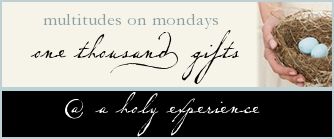 61. The sweetness of an infant baptism Sealed by His Spirit, washed in His blood.
62. My pretty little girl in her Sunday dress, pearls, and bow running barefoot wild in the backyard with her cousin, a bunch of boys, and a football.
63. Cold beer on a warm afternoon
64. Birds that sweetly sing outside my window to cheer me out of my horrendous mood.
65. A kitchen full of groceries
66. Warm sunshine
67. A slower-paced morning and no lunch box packing
68. Fresh oranges
69. Big hugs from a precious boy
70. Blooming azaleas and dogwoods
Posted by

Margie
at 9:04 AM
0 comments

It is truly a FEAT to find a photo of myself in my sea of picture files. I wanted so badly to post a picture of Molly's baptism here because it was almost exactly two years ago, but for the life of me I can't find one of me and her! I have a bunch of just her and lots of family with her, but not me. Typical.
Here is one of me on Easter Sunday two years ago. I had actually just started working at the church and was taking a quick picture of me and my sweet boy #1.
We will make no comments about how much lighter my hair is in the picture below than it is here. *ahem*
Posted by

Margie
at 8:24 AM
0 comments

I have a lot of favorite photos of my best friend, but I'll just randomly pick this one because it's a rare shot of just the two of us.
We met April 26, 1993, began dating exclusively on November 1, 1993, were engaged on January 12, 1997, and married on November 29, 1997. No one on earth knows me better or loves me more!
Posted by

Margie
at 8:13 AM
1 comments